CAIT CALLS FOR OVERALL REVIEW OF GST
"Fragmented procedures & compliance have greatly distorted the inherent beauty of GST. The experience of about 9 months of GST implementation in the Country requires an overall review of not only the tax rates but even the prescribed procedures as well. Weaknesses, leakages, loopholes of GST needs to be plugged. Correction of error in classification of goods in different tax slabs particularly under tax slab of 28% beside removing anomalies and disparities to make it a simple and good taxation system which may comply with two basic fundamentals of GST i.e widening of tax base & encouragement to voluntary compliance"- said the Confederation of All India Traders (CAIT).
An internal panel of CAIT headed by its National President Mr. B.C.Bhartia has recommonded that now the time has come when the Government should move forward to make GST a stable taxation system by conducting an overall review of GST structure & take remedial measures. No direct communication of the Government with the trading community so far is the root cause for chaos & confusion and as such a permanent mechanism needs to be formed to make regular inter-action both at Centre & State levels-opined the panel.
With GST portal not functioning properly, overlapping of laws, short term measures to provide relief, much lack of awareness about prescribed fundamentals and compliance thereof, variation of tax rates in items pertaining to same vertical, applicability of HSN code for everyone whether big or small, absence of any nodal authority to provide legitimate answers to the queries has multiplied uncertainity about GST and as such it will be appropriate if immediate steps are taken to set the things right.
CAIT National President Mr. B.C.Bhartia and Secretary General Mr.Praveen Khandelwal said that CAIT panels has suggested some immediate measures including abolition of Reverse Charge Mechanism, application of E Way Bill only on inter-state transactions, quarterly returns for turnover upto Rs.100 crores and monthly return for turonver of more than 100 crore turnover, Applicability of HSN Code only on Manufacturers, No tax liability on Purchaser if Seller does not deposit Tax collected by him, Formation of a GST LokPal, Representation to traders in GST Council, Formation of Joint Committee of Government Officials at Centre, State and District level to monitor & regulate GST system, Revisiting 28% tax slab which should be limited to only luxurious & demerit goods, re-classification of goods falling under other tax slabs.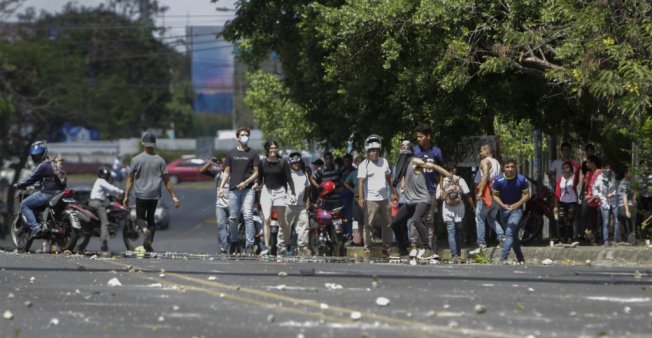 Violent protests are throughout Nicaragua, specially in Managua, Masaya, Leon and Esteli. The protests started on 18 April 2018. Street violence has involved tear gas, rubber bullets and live ammunition, resulting in many serious injuries and at least 10 fatalities. Some Government buildings have been damaged, and troops have been deployed in several cities.
Access to the Managua International Airport and to the area of Carretera a Masaya (where universities, shopping malls and restaurants are located) may be affected.
Demonstrations are scheduled to continue until 23 April, however there are reports of escalating violence across the country and the demonstrations may continue longer.
Many students were arrested during anti-government protests in Nicaragua have been released by police, after the
protests started on 18 April 2018, in eight days
of demonstrations in which nearly 30 persons were killed. The alleged protesters emerged from prison with shaved heads and some of them accused police of beating and torturing them while in captivity. "It was three hours of torture: beatings, kicks, they lined up to kick me," one of the students, who did not want his name publicised, told Nicaraguan newspaper La Prensa.
Police said in a statement that detainees had been handed over to relatives and in some cases religious committees in six cities in Nicaragua by Tuesday 8:30am (14:30 GMT), but did not specify how many were let go.
On Tuesday, the Roman Catholic Church agreed to mediate between members of civil society and Nicaragua's embattled President Daniel Ortega.
In a press conference, cardinal Leopoldo Brenes called on Nicaraguans, as well as the goverment to "avoid all acts of violence, [and acts that are] disrespectful of public and private property".
Protests erupted in Nicaragua on Wednesday over a controversial reform of the country's social security system.
Police were criticised for their heavy-handed response to the protests, and accused of using live ammunition against demonstrators. Hundreds were injured, while dozens of shops in Managua were looted amid the unrest.
In a televised meeting on Sunday evening, Ortega cancelled the reforms, but tens of thousands of people marched in Managua on Monday, with many calling for the resignation of their 72-year-old president.
The former Sandinista guerrilla is on his third consecutive term and has been accused of nepotism – his wife Rosario Murillo is the vice president – and for undermining democratic institutions to tighten his grip on power.
Murillo softened her rhetoric on Tuesday when she told protesters there was "faith that we are going to go forward united", days after coining them "vampires".
World leaders have expressed their concern over the violent protests.A spokesperson for the United Nations Human Rights Office said, "We are particularly concerned that a number of these deaths may amount to unlawful killings," Liz Throssell told reporters at a Tuesday press briefing.
April 25, 2018
: Hamdard Laboratories (India), an over 100 year old Unani and FMCG company in India announced over 200 winners at their Bonanza Lucky Draw held at India Islamic Centre in New Delhi.
Launched in 2014, Hamdard Bonanza an innovative customer loyalty programme for Unani practitioners & retailers has now become an iconic scheme. There has been an overwhelming response from Unani fraternity with more than 3500 participants from across the country. The event was a culmination of Hamdard Bonanza (2016-2017) and saw a lucky draw to identify over 200 lucky winners of prizes, including Bumper prize of a Maruti Alto Car. The other prizes comprised of scooty, laptops & other consumer goods. This event is the culmination of both the phases of this loyalty programme. Phase 1 was from 2
nd
December, 2016 to 25
th
January, 2017 and the Phase 2 was from 15
th
February, 2017 to 31
st
March, 2017.
Dr Abdul Majid from Hyderabad was the lucky winner of the bumper prize of Maruti Alto Car.
Mansoor Ali, Chief Sales &Marketing Officer, Hamdard Laboratories (India) said, "
Hamdard Bonanza is a great loyalty programme that we initiated in the year 2014. We are grateful to the hakims and doctors for their contribution in Hamdard and the society at large. Through this programme, we acknowledge their efforts and positive impact on
the Unani system."
About Hamdard Laboratories India:
Established in 1906 by Hakeem Hafiz Abdul Majeed as a Unani company, Hamdard is a progressive, research based, health and wellness organization with a focus on developing innovative and natural solutions for the masses based on Unani system of medicine. Hamdard India has a wide portfolio of over 500 natural and herb based products and is amongst the leading Health & Wellness companies in India. Hamdard India is the manufacturer and exporter of the world's largest range of Unani medicines; exporting to more than 22 countries across the globe. Hamdard's area of expertise include lifestyle disease management, weight management, skin and hair care, gastro care, men's health, women's health, cough and cold wellness products and Unani medicines. The top brands are RoohAfza, Safi, Roghan Badam Shirin, Sualin, Joshina, and Cinkara. With over 100 years of service to health and humanity, Hamdard has today become synonymous with 'integrity' and 'high quality' and stands as a mission committed to serve and benefit the society at large.
2
nd
Martha Farrell Award Ceremony held at Delhi -Women empowerment through participation
(Rahul Bali, Senior Correspondent, Sagar Media Inc, New Delhi)
Martha Farrell Foundation has been working among women groups across India since inception. The core activities of the foundation are to empower women through participation and action-oriented programmes.
Gender inequality has been the curse of all the developing and developed societies since civilization. Patriarchy and subordination of women are embedded in the social system of India. In societies such as ours, it is almost a given that women will spend much longer caring for the home and children than men.
In the 1850s the women groups in the United States of America struggled to include women in the provisions of 14
th
and 15
th
Amendments (Extending citizenship rights and granting voting rights). In India, Savitribai Phule opened the first school for girls in 1848 with the support of his husband Jyotirao Phule which allowed the women of marginalized sections of the society to get an education and prepare them to assert for their rights. Education is the only tool through which women and men can achieve social and economic mobility in life.
Patriarchal mindset in India needs to be changed. A girl child is not welcome at the time of birth. Statics reveal that women are vulnerable in every part of India. Public transport is often intermittent, they face harassment en route and late working hours leave them open to greater risk of violence. Casting couch is prevalent in every field of industry. According to 2016 report by National Crime Record Bureau (NCRB) more than 3 lakh incidents of crime against women were recorded. Such crimes against women belonging to the marginalized sections of the society increased manifold.
India is an emerging economy. Data reveals that only 25 percent of Indian women are in the workforce, while for China it 70 percent. To reduce this gap, inclusive policies need to be formulated and implemented. Women need to develop a scientific outlook for that dogmatism and superstitions should be rejected. Dowry system needs to be annihilated. Social and economic inequality can only be reduced through empowering women. Men monopolization over the mind of women needs to be demolished. They need to be empowered not only at the regional level but also at the national level. The representation of women in Parliament of India needs to include.
Since independence, several initiatives on the part of the government as well private organizations are taken in safeguarding the vulnerable women. Contributions by Martha Farrell Foundation, Society for Participatory Research in Asia ( PRIA) and Rizwan Adatia Foundation in empowering women are commendable and need to be supported by every sensitive citizen of the world.
During the function, awards under different category were given to individuals and institutions. The J&K Government has admitted in the Legislative Assembly while giving a reply that 11,786 cases of crime against women in 2016 were reported. Gang Rape, Kidnapping are common in the state of J& K. In that situation, Nadiya Shafi, a promising individual from Kashmir has been working among marginalized women groups to educate them about their constitutional and legal rights. Malti Sangne of RSCD, Maharashtra received institution category award. RSCD organized several programmes for the empowerment of marginalized women in the state of Maharashtra.
A dialogue took place on the sensitive issues concerning women among the panelists. Rizwan Adatia, Founder & Chairman of Rizwan Adatia Foundation, a visionary, philanthropist narrated his story how he began his journey from a humble background. His mother, a pious woman motivated him to engage in social services particularly for the vulnerable women. From that day onward, he and his family have been working for the upliftment and empowerment of marginalized women. Rizwan said: "There is need to bring about change in the minds and hearts of the people and create awareness in the society towards gender equality".Sohail has been creating awareness among boys and girls through sports platform. He said: Girls and boys can understand better when they engage in open discussion". The discussion was moderated by Ms Poonam Muttreja, Population Foundation of India. A song is sung by Tripy Sama, musical band mesmerized the audience. Nandita Pradhan Bhatt, Director, Martha Farrell Foundation thanked the guests for participation.
APR
26
Screening of Italian Movie – Le fate ignoranti by Ferzan Özpetek
Ferzan Ozpetek's "Le fate ignoranti" (The Ignorant Fairies ) takes up a more unconventional notion of family regarded as a gender-fluid community of individuals. It is almost a coming of age story wherein a couple will end up knowing each other in a very unique way.
PLOT:
When Antonia's husband Massimo is killed in a car accident, she accidentally discovers that he has been having a same-sex affair with a produce wholesaler named Michele. Although she's initially devastated by the news and hostile toward Michele, she soon develops a friendship with him and his and Massimo's circle of gay, transgender, and straight friends, among whom are a Turkish immigrant, a playwright and a boutique owner. As she gets to k
now these people and become a part of their lives, the new relationships dramatically transform Antonia.
AWARDS:
3 Nastro d'Argento Prizes (Best Actress: Marghertia Buy – Best Actor: Stefano Accorsi – Best Producer: Tilde Corsi and Gianni Romoli)
Public's Choice, Image-Nation Festival
Best Film, New York Gay and Lesbian Film Festival
Best Film, Austin Gay and Lesbian International Film Festival